Walk In Bathtubs FAQ in Biloxi, MS
Do you have questions about purchasing a walk-in bathtub in Biloxi or a walk in shower? We get phone calls each day from folks who want to purchase a walk in bathtub in Biloxi but just don't know where to start. Because walk in tubs aren't as popular as standard tubs, and because showrooms aren't readily available in Biloxi, walk-in tub fact-finding can be overwhelming. The best place to search for walk in bathtub and walk in shower information is online or over the phone. For more information on Independent Home Products, LLC's walk in bathtubs, installed in all of Mississippi, simply call (888) 351-9967 or see answers to FAQ below.
Below are questions we are asked (FAQ) about our custom walk in tubs and showers: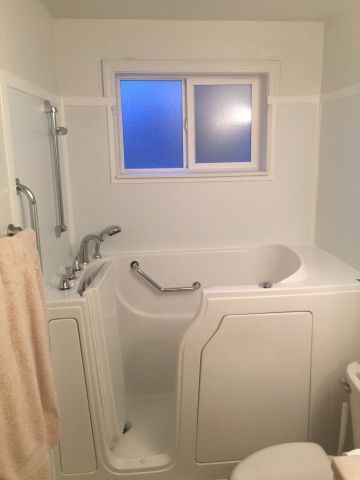 What size walk in bathtub do I need? Unless you require a walk in tub to fit a full-figured person or have a smaller than normal space in which to install a walk in (but don't worry, we have a solution for that, too), you will be able to find an Independent Home Products, LLC walk in bathtub that will fit your space. Our Biloxi walk in bathtubs fit into any standard sized tub opening. The most popular choice that we offer is 30" x 52". It is designed to fit a standard bathtub/shower stall. This model comes in standard and wheelchair accessible models, and some of our units are also Hoyer-lift capable.
Do you install larger sized walk in bathtubs in Biloxi? Independent Home Products, LLC can accommodate full figured people with our 33" x 44" large walk-in-tub for Biloxi residents. It is designed for folks who weigh over 300lbs. With this large sized tub, there is a greater space requirement in your bathroom and you might need to upgrade your hot water tank to accommodate the additional size of the tub.
What if I'm not sure what type of walk in tub I need? Not a problem! Independent Home Products, LLC provides free, in-home consultations for walk in tub installations in Mississippi. Call (888) 351-9967 to schedule a convenient time to meet with a Biloxi walk in shower and walk in bathtub installer. We'll take a look at your bathroom and get all necessary measurements. You will be shown options for walk in tubs that will work within your existing space.
What is the difference between standard and wheelchair accessible walk in bathtubs? The difference comes down to the door. Our wheelchair accessible walk in tubs have an outward swinging door, which makes transfers from a wheelchair to the bath bench much easier and safer. Keep in mind, more space will be required for this model than for the standard inward swinging door.
What other features are available on your Biloxi walk in bathtubs? Independent Home Products, LLC tubs come with a variety of features for function and comfort. Just a few of the available options include:
Heated seat
Whirlpool & air jets
Chromotherapy lighting
LCD control panel
Aromatherapy
Designer faucet set
Low threshold step in
Extendable shower head
Safety grab bars
FM speaker and radio
Why should I choose Independent Home Products, LLC's walk in tubs? There are many reasons why Independent Home Products, LLC installs the best walk-in bathtub installer in Biloxi. All of our tubs are factory tested to ensure they are built to last and have an airtight door seal. All of our walk in tubs and showers are manufactured right here in the United States in our Long Island, NY facility, and then delivered to you for installation. What's more, our customers love them! We have 103 ( and counting) customer reviews, with an average rating of 4.7 of 5 stars. Call (888) 351-9967 today and experience our superior customer service, attentive staff and quality Biloxi walk in bathtub installation crews.
Independent Home Products, LLC installs superior walk in bathtubs in all of Mississippi. Call (888) 351-9967 for a free consultation.
WHAT CUSTOMERS ARE SAYING:
5★★★★★ - "Their walk in tubs were affordable and I endend up choosing a simple soaker walk in tub which I enjoy using."
Denise
2015-04-27
---
5★★★★★ - "It was a breath of fresh air to work with Independent Home walk in tubs. They weren't pushy like the other national companies and were patient with me. The made sure I understood everything before I agreed to hire them for my walk in tub installation."
Sally in New Orleans, LA
2015-04-27
---
5★★★★★ - "Danny's crew is top notch. The Acylic Deluxe is a high end walk in tub that was more affordable than the other companies I met with."
Lorain in Baton Rouge, LA
2015-04-27
---
5★★★★★ - "Their customer service was spectacular. From first phone call, to in-home visit, to installation. Highly recommended."
Bethany
2015-04-24
---
5★★★★★ - "I had 3 quotes for my walk in tub. Indpendent Home was the highest quality at the best price."
Gloria
2015-04-24
---
Call for FREE Walk In Bathtubs FAQ Quote
---