Converting Tub into Walk In Tub in Biloxi, MS
Many members of the aging population are converting their standard tubs into walk-in bathtubs in Biloxi, Mississippi as a means of remaining independent and safe as they practice aging in place. Aging creates with so many different changes. Changes in your life and body. As we age, and we experience mobility changes, staying safe in our homes becomes a focus during daily routines.
Independent Home Products, LLC specializes in converting tubs to walk-in tubs in Biloxi to protect customers from potential dangers. The advantages of installing a walk-in tub outweigh the cost of installing a walk-in tub in Biloxi, as well as the cost of not addressing bathroom safety issues for an aging loved one. Give us a call so that we can help you develop a plan to keep you or a family member self-sufficient when it comes to your daily bathing routines and aging in place.
---
Call Independent Home Products, LLC for a free quote:
---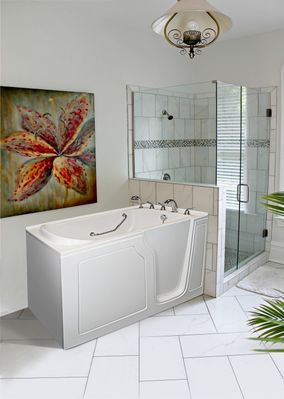 We cater to Biloxi's Walk-in Tub Needs
With a high percentage of slip and fall injuries that occur in the bathroom, Independent Home Products, LLC wants to install the safety precautions of your walk-in tub. Walk-in tubs provide independence for those with mobility concerns. Since 2007, Independent Home Products, LLC has been installing walk-in tubs in Biloxi's homes and retirement communities. We use our expertise to improve the bathroom safety of residents in Biloxi by installing walk-in tubs and showers
Aging in Place in Biloxi
It's our mission to install an efficient walk-in tub to make it easier for you to bathe in your home. We pride ourselves on being cost-friendly and reliable. Independent Home Products, LLC has been installing walk-in tubs all over Biloxi since 2007, making us the professionals you need! Let us help you achieve peace of mind in the midst of your health changes.
How We Convert Tubs in Biloxi
Independent Home Products, LLC takes thorough steps in understanding your stipulations. We start by:
Understanding your essential needs

Removing your current tub

Making sure the appropriate plumbing and adjustments are arranged

Going over the designs that work best for you

Discussing if you need any additional work done

Designing and manufacturing your tub according to your specifications at our NY factory

Installation of your new walk in tub

Ensure you can utilize your new tub effectively

Installing any adaptions necessary

All situations are unique and have different requirements. Independent Home Products, LLC is ready to take action to keep you from being restricted. Let us show you we install the best walk in tubs in Biloxi! Take the first step and call (888) 351-9967.
WHAT CUSTOMERS ARE SAYING:
5★★★★★ - "Their walk in tubs were affordable and I endend up choosing a simple soaker walk in tub which I enjoy using."
Denise
2015-04-27
---
5★★★★★ - "It was a breath of fresh air to work with Independent Home walk in tubs. They weren't pushy like the other national companies and were patient with me. The made sure I understood everything before I agreed to hire them for my walk in tub installation."
Sally in New Orleans, LA
2015-04-27
---
5★★★★★ - "Danny's crew is top notch. The Acylic Deluxe is a high end walk in tub that was more affordable than the other companies I met with."
Lorain in Baton Rouge, LA
2015-04-27
---
5★★★★★ - "Their customer service was spectacular. From first phone call, to in-home visit, to installation. Highly recommended."
Bethany
2015-04-24
---
5★★★★★ - "I had 3 quotes for my walk in tub. Indpendent Home was the highest quality at the best price."
Gloria
2015-04-24
---
Call for FREE Converting Tub into Walk In Tub Quote
---